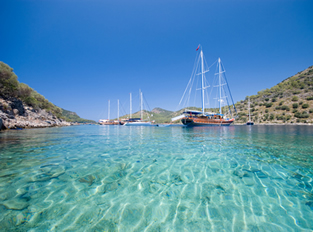 Blue cruise Turkey focus mainly on gulet cruises from the southern coast of Turkey. Luxury charter gulets have sailed the great blue seas of the Mediterranean and Aegean for decades. The first of these delightful journeys began with the initial historical blue cruise adventure by the well known fisherman of Halicarnassus with his gulet named Macera in 1945. Since then, Turkish gulets have developed into pleasure tourism for gulet charters in Turkey. These lovely Turkish gulet sailboats come in all different designs, layouts and sizes; as well as classes in level of luxury. Gulets can range from 16 to 56 meters in length and can accommodate up to 32 guests on board.
Blue cruises are great opportunities for all ages. Ideal for travellers with families or groups of friends; at Elle Yachting, we can arrange gulet charters for couples or small sized groups as well. Whether you are seeking only a few cabins or larger charter gulets up to 16 cabins, our extensive portfolio can accommodate your requirements without question. Turkish gulet charters are offered in different classes - from the ultimately luxurious VIP gulets, to the deluxe and luxury gulets, as well as budget-friendly economic gulets.
Our gulet charter holidays serve from the popular harbours of Bodrum, Marmaris, Fethiye and Gocek. From these exciting ports your gulet holidays are available along the Turkish coast, the Greek Islands, or both. As itineraries are quite flexible, you can combine your gulet cruise holidays to experience both cultures during your holiday, if you so desire.
Many Turkish gulets are designed with good quality features from build to services that can accommodate many needs during your gulet cruise. Luxury gulet charters from Turkey provide comfortable living spaces. While some gulets will offer special water sport toys such as water skies, wakeboards, ringos, they can also be equipped to provide jet skis as well for exciting times in the water.
With just about all the gulets in our listings, we offer our special guests the usage of canoes, fishing tackles, snorkels and masks for their enjoyment during their holidays at sea. Look no further than Southern Turkey for your gulet cruise holidays in 2013 with the professionals at Elle Yachting!