Marmaris Gulet Cruises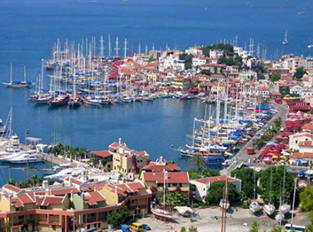 Marmaris is one of popular holiday resort with beautiful coastline in Mediterranean.
This beautiful large, natural resort housing several private marinas for any kind of yachting services. Marmaris also have many accommodation opportunities to suit all budgets. There are many restaurants and friendly people may serve you a good fresh food.
There is castle which overlooks to the town with a museum from the Ottoman's time. The nearest airport is Dalaman which is around 1 hour 30 minutes drive away, which makes Marmaris one of important "Gulet cruise" start point port.
Yacht charter
called Blue Cruise as well from Marmaris gives some different itinerary opportunities like as Marmaris-Symi-Rhodes-Marmaris; Marmaris-Datca-Marmaris and Marmaris-Fethiye-Marmaris.
Also daily yacht trips are available from Marmaris to Dalyan-Caunos to discover the ancient city of Caunos and Lycian rock tombs by passing the reed beds and also you can have sulphide mud bath in the area.
Here is also you can visit the famous beach of Iztuzu (protected area) where the sea turtles (called "Caretta-Caretta") lay their eggs.
Bodrum Gulet Cruises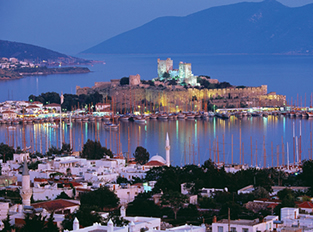 Bodrum is one of fantastic place for a Gulet cruise holiday, with rich history, traditional local products, good weather and amazing night life. Bodrum is an ancient city of Halikarnassus. You should visit the castle is open to the public and a short walk from the marina. The sea museum in the castle has many historical artifacts which can be interesting to see the wooden boat is 2.500 years old.
There are many traditional local shops are selling local products and many local cafe, restaurants along the marina.
Lots of bars and a famous disco Halicarnassus for long night life you may have a visit.
Gulet Cruise from Bodrum gives some different itinerary opportunities like as Bodrum-North Dodecanese-Bodrum and Bodrum-South Dodecanese-Bodrum or Bodrum-Karacasogut-Bodrum
Ferry service from Bodrum to Kos every day during the summer and closest airport is Bodrum Milas airport is 35 km.
Also public boat tours are arranged from almost all the beaches. Boat tours are a good way to explore various beaches surrounding Bodrum, as well as some must see island strands you can't reach by road.
Fethiye Gulet Cruises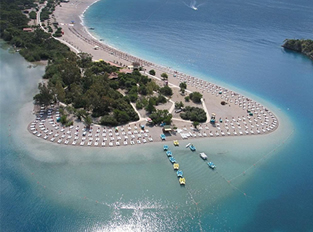 Fethiye is ancient city of Telmessos. The Hellenistic theatre and the Lycian rock tombs of ancient Telmessos"5th century BC" can be seen in the city.
Gulet Cruise to Fethiye you can have an optional excursion to Oludeniz "the famous Blue Lagoon" and Kaya Koy "the deserted Greek Village" Oludeniz is 12 km from Fethiye or to Saklikent canyon. Saklikent canyon is in between, geographically beautiful Karaçay, Mugla and Antalya, which is 50 km away from Fethiye. The canyon is 18 km long and 300 m deep, resulting from the abrasion of the rocks by flowing waters over thousands of years.
Oludeniz also is famed for its spectacular paragliding with the famous mountain Babadag to beach flight. It also hosts an annual Air Fest at the end of October each year that attracts paragliding pilots from all over the world. Two people can fly together in the same harness, is very popular.
Gulet Cruise from Fethiye gives some different itinerary opportunities like as Fethiye-Marmaris-Fethiye and Fethiye-Kekova-Fethiye
Ferry service from Fethiye to Rhodes during the summer and winter.
Dalaman is the closest airport around one hour transfer time.
Gocek Gulet Cruises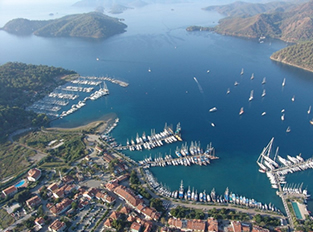 Gocek is located in between Fethiye and Caunos ancient site.
This popular yachting port has many interesting shops and restaurants situated around the harbour. Gocek was used as a harbour for ships loading chrome ore collected from the mines under nearby mountains during the Ottoman period. There are six marinas in Gocek that serve the yacht tourism in the area.
Nowadays Gocek coves and twelve islands is most popular destination for Gulet cruises with its clean Mediterranean water, turquoise coast, green pine forests, lots of lovely and peaceful bays and beaches make your holiday unforgettable.
Some of the bays of Gocek are Manastir, Cleopatra, Batikhamam (Kyria) and Bedri Rahmi. Tasyaka Bay is also known as Bedri Rahmi Bay due to his painting on a wall in this bay. Actually, he and his friends introduced us these bays and the phrase "blue voyage" in 1960's.
Gocek also provides some high quality hotels, apartments and many rental villas for accommodation.
Gulet Cruises from Gocek gives opportunity of itinerary Gocek-Kekova-Gocek. The nearest airport is Dalaman only 25 minutes transfer to your gulet.
Antalya Gulet Cruises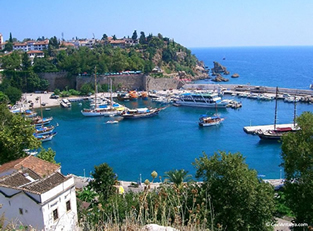 Gulet cruises holiday in Turkey always provides a fantastic combination of sun, sea, relaxation, culture and nightlife in Antalya.
Antalya is one of Turkey's famous tourist destination, located between Taurus Mountains and the Mediterranean Sea with its delightful, sandy and pure turquoise water.
The city hosts already more than seventy four five star hotels and has been growing several of them have golf clubs.
Some of Antalya's districts are Aksu, Alanya, Demre, Kas, Kemer, Serik, Manavgat; all of them are beautiful holiday region then each other. Alanya is one the famous holiday resort with its long sandy beach, ancient castle and lots of hotels. Also Alanya is home to nearly 10.000 European residents.
Manavgat Waterfall on the Manavgat River located near to Side one of the places should be seen. Antalya city has lots of great clubs, bars and discos for wild night life out. Antalya airport operates in Turkey's primary holiday destination located in Mediterranean coast, was built to accommodate millions of tourists to Antalya during in summer. The airport is 13 km to the city center.
Greak Islands Gulet Cruises
With the Gulet Cruises, Greek Island's are one of the most popular destinations. The untouched natural and full with historical heritage of the country has been accepted as the cradle of civilization.
We have two options of itinerary for gulet cruises are Dodecanese North and Dodecanese South.
Dodecanese North itinerary is starts from Bodrum to Kos, Leros, Lipsi, Patmos, Kalymnos, Kos is one of busy and popular Greek Island and ideal option to start or finish your gulet cruises.
The island offers many sandy beaches to choice, natural hot springs and a very lively night life.
Kos airport is 24 km to transfer to the harbour. Dodecanese South itinerary starts from Bodrum to Kos, Nisiros, Rhodes, Symi, There are many typical Mediterranean restaurants and can be interesting for shopping from traditional shops in the island. You can have colourful night life with many night clubs and casinos.
Rhodes also very popular destination for gulet cruises. There are also other options for cycling to explore more of the island. Rhodes airport is 21.6 km to transfer to the harbour.