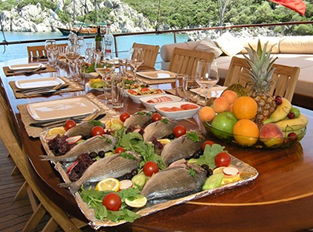 Turkish cuisine has a really rich selection of food mixed with Mediterranean and Anatolian culture, which is not only healthy, but also very varied and tasty. You will be amazed at the variety and resourcefulness of Turkish Cuisine!
Blue cruise on board, your day will start with a typical traditional Turkish breakfast, based on the Mediterranean style with bread, a selection of cheeses, olives, tomatoes, cucumber plus yoghurt, seasonal fruits, eggs, sausage, jams, honey. Fresh orange, tea and coffee is normally included.
A light lunch would be seasonal vegetables served in a variety of styles, plus pasta or rice and salad (Salads are always varied) and bread, followed by fresh fruit like stuffed aubergine, rice and salad, pastries stuffed with meat or cheese, yogurt, traditional appetizer "Mezzes" etc.. An abundance of fruit, vegetables and salad produce. Also, almonds, olives and herbs are all grown locally and naturally. Also, a selection of sea food, meat, chicken, dairy produce and pastries.
In the afternoon around 5.00 pm, tea, coffee and cookies on the aft deck will be served by crew. This is always a popular activity, as well as being refreshing following a day in the sun. During the early Evening, guests generally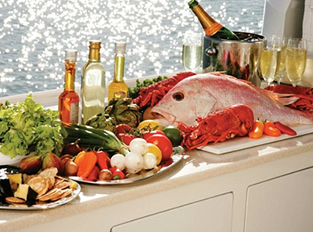 like to take aperitifs on the foredeck, whist watching the sun go down.
On dinner generally consist of selection of Mezzes and freshly grilled seafood and meats, salads followed by local dessert or fresh fruit to finish the day as the sunsets and stars come up. You may want to try to catch your own fish for a barbecue on board or on the shore. Gulet charter guests are also welcome to provide and cook their own food if they so wish.
Breakfast and afternoon tea and coffee are generally included, though other drinks are chargeable. A whole range of drinks will be stocked on board including bottled water, soft drinks, beer, wines, spirits and liqueurs. Cold drinks will be refrigerated.
Local drinks are excellent accompaniments to dinner, you should try Raki with water and ice for a traditional touch, local beer for extra refreshment, or perhaps one of Turkey's ranges of home produced wines.
If you have any specific dietary requirements whether vegetarian, gluten free diet or allergies, please inform us.
Elle Yachting personnel can help and advice. Discretion is also very important for us, as per our Privacy Policy, we will not disclose any of your personal information to 3rd parties without your consent.
Download Sample Menu